I can't really comment on anything except the last bit. The fact that he comments in person is worlds and above better than commenting here, doncha think? :)
~laugh~ Oh I'M SURE.

One of us has to have some class. And since I'm the erotica writer, I guess that elevates him to a new height, huh?

But don't let that fool ya. I write it to turn him on.
Posted by CarysWeldonblog :: 8:14 AM :: 6 Comments:

6 Comments:
To me it sounds like the editor is a bit of a dunce and didn't get it herself until someone explained it. So since she didn't get it, she doesn't want it in there. Her loss, really. I think about 99% of the people would get it, your readers or other. But that's just me. *s*
The saddest thing is...she isn't the only editor out there that doesn't get stuff I do. (Sigh.)

I have a mystery anthology coming out--and I had to argue with the editor on that one--she won. It was over delayed headlights. If I took a poll, I think most people would say they've seen car headlights that stay on after you climb out, and turn off automatically.

That editor INSISTED I remove it from the manuscript because she had never seen a car that did that. And how long have they had cars with delayed headlights? YEARS.

But the bottom line in publishing is...the editor has the final say. You can argue some points, but usually, if they're set on getting rid of something, they get their way. They're like little demi-gods.

So, if you read something and all the sudden you come to a place where you blink and think, "Uh, that sounds weird," I'm guessing it's a spot where an editor rewrote a line.

I've had editors put words in--after I went through a final edit. So, it was a surprise to me when I read the book that was already on sale. They can be sneaky like that.

I fight. I stomp my feet. I say, THIS IS MY BOOK. And they say, "It's your manuscript until I pass it." Which, really, gives you the perspective.

It is only a manuscript until the editor/publisher put it on the market.
Sounds like the editor doesn't think much of her readers.

Where are the pics up for RT?
Pics are up on my website: http://www.carysweldon.com/ Just look for the link that says RT 2006.

My camera stinks. Most of the pictures are dark. Of course, some of those were taken IN THE DARK at the pajama party.
Can it really be THAT hard to understand that line? I don't think it's so obscure.
See? That's what I'm saying!

My readers are quick witted. I love entendre. Give me stuff I have to think about, and can grin about later saying, "How cool, that worked both ways you could take it."

The editor thinks that doing that pulls the reader out of the story and she says that's bad. I say...hm...doesn't that make a story memorable if a reader thinks about it when they set it down?

I'll keep putting them in, and editors will keep trying to take them out. But maybe some of them will pass through.

Thanks for getting it!
---------------oOo---------------
Sunday, September 10, 2006
First review of Vampirubus

Okay, this is pretty cool to me as a writer. I sent out the first pdf copies of Vampirubus on Friday--for review. Kathy, from Coffeetime and Karen Find Out About New Books snapped it out of the queue and read and reviewed it already. How awesome is that? You know that other books have been sitting in the reading queue for up to three months. Or maybe you didn't know that. Did you?

It's just great that she saw a book by me and snapped it up, and turned it around asap. Anyhow, this is what she says about it:


VAMPIRUBUSCARYS WELDON
ISBN # 1-55410-716-4
Release date: September 15, 2006
EXtasy Bookswww.extasybooks.com
E-BookPrice: Unavailable
219 Pages
Vampire Erotica
Rating: 4 Cups

What would you do if, out of a normal work night at your job at a greasy spoon, you encountered a down right gorgeous stranger with the promise of inexhaustible sexual adventures shining in his eyes? Well, Mary Margaret Kilpatrick experienced such a night, and the next twenty-four hours would forever change her existence. For good or bad is debatable.

Stoker is that sexy stranger and sniffing out kin had brought him to this diner, and this waitress. Ascertaining that she was a typical catholic girl, he made sure she got rid of her cross, and quick, because he knew Crim would want her as he found himself wanting her. Searching for his vampire queen was the only thought on his mind. What occurred next would change all of their futures.

Maggie, Stoker, and Crim find themselves in a rare situation. Having been bit by both vampires, and having the unusual dormant DNA, Maggie finds herself to be a truly unique creature, only heard of in legends. How quickly circumstances change, Maggie thought. So much for the boring diner. And to complicate things, Labriel shows up, and the war is on.

Ms. Weldon has written a funny tale of vampire lust and demon lasciviousness. My curiosity was peaked by the title and my attention was riveted to this tale of vampire sexual proclivities, and a ménage a trios that every woman secretly wishes for, at least once. This book is perfect for those vampire lovers who like it raw and engaging. I devoured this book and loved every delicious minute.

Kathy
Reviewer for Coffee Time
Reviewer for Karen Find Out About New Books
Posted by CarysWeldonblog :: 9:54 AM :: 2 Comments:

2 Comments:
That sounds like a great review. :)
That's quite a compliment to get a review that quickly.
---------------oOo---------------
Saturday, September 09, 2006
Admit it...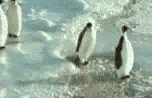 you feel like doing this to at least one person everyday!
Posted by CarysWeldonblog :: 10:35 AM :: 4 Comments:

4 Comments:
usually several times a day rofl.

Oooooh yeah!! Sometimes repeatedly. To the same person.

I laugh every time I see this stupid penguin thing. Isn't it great?

Yes. Oh yes, I do.

---------------oOo---------------

Booksigning Today

I have a book signing today, at the Library Center in Springfield, Missouri from 10-2. My werewolf anthology has not come in--go figure.

So, I'll be hawking some books under my other name. It's probably a good thing--since I don't really want people from my church wandering past my sexy stuff and asking too many questions--like when will I be going to a different house of worship? (You know, some people think sex is dirty.)

I say, "Some dirty sex is good."

And, "Reading about dirty sex doesn't get me dirty." It keeps me from going out and...well, getting dirty. You don't want me to go into that, do you?

My husband will read this and say, "Yes. Tell us...what would you do?"

(Maybe I'll write a fantasy episode for ya detailing what I might do. Would you like that?)

Of course, back to the real life boring stuff...my poetry book and my "other novel" haven't arrived in the mail either. Nor the mystery anthology I have coming out from Hard Shell with another author. Isn't that just great?

BUT you might be happy to know that Vampirubus IS slated for release next Friday, and that several reviewers already have it in hand. So, warm yourself up with the thought that you'll be able to read about little Mary Margaret Kilpatrick (Maggie, a waitress at a 24 hour pancake house) being swept off her feet, sucked on, and all that by two vampires that are very sexy, imo.

I gotta get out and go to the signing. Feel free to swing by.
Posted by CarysWeldonblog :: 6:56 AM :: 5 Comments:

5 Comments:
good luck with your book signing. lol on the church ladies. Hard to know what some people will take offense too but if they don't like it they don't have to read it. I had a woman in a book store bless me out cause I let my 14 read harry Potter. And I didn't even know the woman. Needless to say we had a discussion and she left the store in a hurry. lol
How did it go? I hope you did well!
None of the church ladies showed up, so that was good, I guess.

Better yet, I sold some books. Enough to buy a forty dollar meal (for my husband and me) at Carlos O'kelly's. Fajitas and margaritas ain't cheap these days, ya know?

I had great company, too. Hubby and best female friend, Becky--so it was a very pleasant morning.

Thanks for asking!
Now that sounds pretty dang good to me. :)

I need to get past my issues and get some stuff out there. I have it finished. It's just... gathering dust. *s*
Yes, Jen, you do.
The first big thing for a writer is to finish something. The second is to get over the hurdle of "fear of rejection" and just send it out.

You have to look around and see a bunch of junk being published. You KNOW you're better than that.

But, you gotta mail it out to get it accepted. SO DO IT!
---------------oOo---------------
Friday, September 08, 2006
Vampirubus! Woohoo!

You will be happy to hear that Vampirubus is done, and it's gone through final edits, put in ebook pdf form, and will be out within the next week or so.

For those who didn't hear about it already, that's a vampire book about a waitress named Maggie who gets swept off her feet literally by this very cool vampire named Stoker. He wants a vampire queen. He takes her to an island in order to do the deed. There she meets Crim, Stoker's best bud. Crim has a higher plan...to make Maggie into a Vampirubus--which is a vampire-cum-succubus. A succubus is a wicked little creature that likes to crawl into men's beds at night and fuck 'em to death. So, you can just imagine how Maggie acts when they do their numbers on her. What it's really all about is two men who like one woman in the bed between them.

To clarify: This book does not contain male on male sexual acts. It's all about pleasing the chick and her figuring out how to handle them.

I read it again yesterday and think it has some fun moments in it. Like, when Maggie isn't sure if they are into male on male stuff and puts it to the test.

When you read it, come back to the blog and post some comments. I love to get feedback.

Now, I'm gonna work on Pack Taboo. Apparently the newest editor wants it worked through again. Sigh. I just wanna get it out there to you! So, I'm gonna go get busy.

Have a super Friday!
Posted by CarysWeldonblog :: 8:20 AM :: 2 Comments:

2 Comments:
wow sounds like a very good book.

Thanks!
It was fun to write. I think you'll like it.

---------------oOo---------------

Continuing daughter saga

We went. She played. They lost.

Near the end of the first game, which was already in the toilet, they put my daughter on the court. She served one ball. The serve was good, opposing team returned it, superstar on the team made a bad play--side out. Point went to the other team.

Second game, my daughter played a little bit more, made no errors. She was in early, and our team held the opposition pretty well. She left the court when the score was 4-6. In about six seconds (I kid you not) the score was 6-12. When the opposing team had 10-19, they put my daughter back in. We came back. She served a couple good ones. Superstar lost the serve for us again. Chey rotated to the net, had some great blocks and a couple good hits. Score was much, much closer. But we lost.

Hopefully, the coach(es) saw how well she played. She didn't miss one play that she was supposed to make.

Supastar, on the other hand, made so many errors that I had to wonder...why do they think she is the supastar? When you play rally points--where every serve gives a point to one side or another (It ain't the kind of vb I played in school)--you can't afford repeated errors.

Anyhow, I'm glad she played, and played well. Only time will tell how the rest of the season goes. But I sorta put a curse on the coach that she wouldn't win games/matches until my daughter started varsity. We may have a very long, bad season if the chick doesn't come to her senses.

Wait. I should clarify. I didn't do any magic mixing in a pot. No eye of newt or gizzard of lizard or blood of a bat. Where do you buy those things anyway? I'm sure as heck not looking under rocks for lizards or going into caves to skewer a bat. I just said these little nasty things in my head the whole time my daughter wasn't playing. You know, during the three matches prior.

Anyhow, it was a relief that my daughter did well. She was just happy she got to play.
Posted by CarysWeldonblog :: 8:09 AM :: 1 Comments:

1 Comments:
I guess that's not too bad, then - maybe the coach will notice what's going on.
---------------oOo---------------
Thursday, September 07, 2006
Update on the VB thing

I called the school yesterday morning and asked for a meeting with the principal and volleyball coach. The principal had the coach call me to say, "He wants us to meet and work it out before he gets involved."

Duh. There's a putz principal if you ask me.

So, I went to school yesterday. Both the coach and her ass. coach (abbreviated that way for a reason)--they made me wait (which I knew they would do) and then they both sat down. Like they wanted to double-team me. You know, intimidate me. But I weigh more than the two of them put together, and I was a mad mom, so that wasn't really happening.

The first thing out of my mouth was, "How about we start by you defending why you haven't played my daughter in three matches?"

Uh, uh, uh. Dumb faces. Finally, I got, "I didn't notice her."

"Excuse me, you didn't notice her? She is your only senior."

I turned to the ass. coach and asked, "Isn't your job as assistant to point out things she misses. Tell me you didn't notice my daughter sitting beside you for three whole matches."

"Of course I noticed her."

"But you didn't say anything? You didn't say, hey, maybe we should play this girl?"

"We did talk about it."

So, that makes the first coach a liar. Right? I didn't say it. I just lifted my eyebrows at the two of them.

I didn't say it because I didn't want to start with an attack. I let them defend themselves, and they had none. Nothing but lies.

I quietly said, "Let me tell you why I think this girl should not only play, but start varsity."

I went on and on, and when I thought they were maybe glazing over, I circled my time-loop lecture back around--I'm a mother of five, an expert at that.

By the end, the coach said, "You're right, I should have played her."

I told her what she did was cruel and criminal, in my opinion. Then I launched into what I thought a good coach should do.

I asked her, "What is Cheyenne not doing that keeps you from putting her on the court."
Coach's deadpan expressions annoyed the hell out of me.

"Nothing. She's doing good."

"You told her she was doing great. No problems, when she asked what you thought she needed to work on. But, come on...there has to be something. Else, you would have played her."

Repeatedly, Cheyenne has asked these coaches if they saw anything she needed to do better, or work on specifically. Always, she got the answer, "You're looking good."

So, there, they finally say, "She's a little stiff."

Well, duh. She's got more titanium in her back than an airplane.

"So, you're not playing her because she doesn't roll her back more? I know her serve is working. I know she's blocking." Although, I did concede that my white girl can't jump. That's the only thing we're seeing, but that's always been her problem. But they don't have any big jumpers on the team at all. So, duh.

They had no defense basically. I went over all of Cheyenne's attributes. (Honor roll/society, band, plays all sports, fbla, debate team, youth leadership positions, class rep.--doesn't drink, smoke, do drugs, swear. Three years as a starting player...) And I asked, "If you're not rewarding a girl like this with court time, what are you rewarding? This girl EARNED a spot on that court."

They agreed to put her on the court. We have a game tonight. I'm sure I'll be pissed when it's over, but I'm hoping they surprise me. And I damn sure hope Cheyenne makes some miracle plays while she's out there.

But, I ask, why did I ever have to fight this fight?
Posted by CarysWeldonblog :: 8:07 AM :: 1 Comments:

1 Comments:
They couldn't even come up with any excuses? I hope she shows them tonight.
---------------oOo---------------
Wednesday, September 06, 2006
Show down

Warning: Mother furious over daughter's mistreatment.

Despite the fact that the coach promised my daughter she'd play in last night's volleyball match--and we spent another ten dollars to go watch--my daughter was the only girl between the jv and varsity teams that didn't get on the court. Which, of course, means there has to be a showdown, a throwdown, or an out and out foot stompin' event by yours truly.

We have lost all three matches we've played so far--and I have to say it almost makes me smile. I mean, they deserve to lose when one of their best servers has been sitting the bench the whole time. I told the coach that last night in the ladies room, too.

Never go potty when you're on my bad side. I'll corner you in there and you'll hate it!

I think my exact words were "Coach?" (We were at the sink, washing. I didn't corner her with her pants down, just for the record.) Anyhow, when she looked up, I said, "You deserve to lose every single match you play if you're not smart enough to play one of your best servers. I'm Cheyenne's mother, and I'll be seeing you in the principal's office tomorrow. So you better get ready. Did you not know that my daughter has led these girls to more victories through her serves than you can count?"

She gulped. "No. I didn't know that."

"Well, you should have put her on the court once, and you'd have found out. I'll see you tomorrow."

I wanted her to think about her excuses. She was speechless, really. And I was so furious, she's lucky I didn't knock her into next week.

I did, however, put curses on her and the assistant coach throughout the match when I realized she wasn't going to play my daughter. So, I expect that to come back and bite me in the butt. 7x7, I'll have more bad luck. But hey, that's sorta my karma this trip around.

Here's the thing: (brag alert)
Cheyenne had more serve points than anyone else on jv or v her freshman year. (Has a trophy to prove that.)
Her sophomore year, she was told she'd be moved to varsity (before the season started) hurt her ankle in the next practice and was out half the season--coach had moved someone else to varsity, so she was stuck on jv--they lost every game until she game back, then won the rest.
Last year, she and the team went all the way to the championships, she had her accident between season and the tournament. They lost the tournament without her.

At the accident, all five kids had major spinal injuries. My daughter is the one that risked herself even more after the crash by getting up, crawling out of the vehicle, calling for the other kids by name until they answered, giving them hope, telling them to hang on. Four kids will attest that Cheyenne had the voice of an angel that night--when they thought they were dying, she was the one calling out, saying "You'll be okay. Can I help you?"

And every time anyone came near her, on the scene or at the hospital, she'd ask, "How are the other kids?" When the other parents came up to her, and introduced themselves, she asked, "How is your son?" (by name) She put parents into tears (not just her own) because the other kids did nothing but talk about how bad they hurt. (And I'll admit, I'd have been like that, whining about my own pain.)

It was ironic considering she was the worst hurt of them all. The surgeon told me he couldn't believe she, of all of the victims, hadn't died in the accident...or been paralyed. Remarkably, her spinal cord was not severed--but he said it should have been, in many places, her whole thoracic section was so torn up, crunched, cracked, twisted. She had broken ribs. Each of her lungs collapsed, separately. We spent days where she'd stop breathing several times an hour and the nurses would come running, literally, to crash cart her.

The kid fought death how many times? Bled out twice on the table while her back was being screwed together. Then, against all odds, is up, walking, and playing sports. By all accounts a miracle recovery.

This kid IS an angel. She doesn't drink, smoke, do drugs, or swear. She's in honor society--makes the honor roll without cracking a book. She plays every sport but track, plays two instruments in band, and is in FBLA, on the debate team, and holds positions of leadership in our church youth group.

Does she deserve to be set on the bench? It's her senior year. I think she's earned a starting varsity position, personally.

And, she got a release from her spinal doctor--which we pay buku bucks to for REAL medical help, but that wasn't good enough. He checked all her reflexes, how she walked, ex-rayed her back, etc. The school made us go down and pay $30 for a hokey clinic sports release.

Then we had to buy her new court shoes and a warm-up suit--because the team is ordering those to match. Hundreds of dollars all in all, and now they're not playing her?

Well, I'm going down there as soon as the principal calls me back to set up an appointment. I'm sure he's talking to the volleyball coach first, to find out what it's all about.

Let me say this, I don't expect satisfaction. I expect to leave my curses on the coaches, and add another one to the principal--who I already know is a butthead because last year he insisted that my son (who is a bit of a geek, not into sports) and his friends could not use the library when the school was open for a game. He also said they couldn't hang out outside, but had to pay, or he'd call the cops.

Now, my son is one of those really good students, and so are his friends. They're the quiet kids that fall between the cracks because they are (truly ) geniuses that the mediocre teachers don't understand. I kid you not.

In science class, they talk about how this "basic method" the teacher is explaining is used in a jet propulsion engine. Or they take it up to a Nasa level and talk about how the principle could be applied...(you get the picture.) Idiot savants, actually...because they have fifteen year old boy sense of humor.

The point is...this ignoramous principal wouldn't let them hang out in the library, or anywhere. They had to pay and go into the gym or he was going to call the cops. Which earns him a place on my butthead forever list.

And he's the guy that's gonna mediate my issue over my daughter not playing. Riiiight.
Anyhow, wish me luck.

All I can say is...I'll be so glad when this school year is over. It will signal the end of my having to go and watch coaches irritate the hell out of me.

In other news--I've got the editing down to the last twenty pages on that one book that has been causing me heartache for months. WOOHOO. I might have been able to finish it this morning if I hadn't been so annoyed over this volleyball deal.

Anyhow, I'm gonna hit the books again and see if I can get r done. Have a good one. I'll keep ya posted on my latest little drama.

*hugs*
Carys
Posted by CarysWeldonblog :: 6:29 AM :: 4 Comments:

4 Comments:
I can't wait to hear what happens.
Good luck!
Don't wait for the principal to call you back. Have your happy butt on his doorstep when he gets there. Otherwise, he'll find excuse after excuse after excuse to put off the call.
You were so right on that one, Jen. The principal took the lame way out.
---------------oOo---------------
Tuesday, September 05, 2006
Oh. Yesterday was Labor Day.

Apparently, when I made my plans to edit, I forgot that Labor Day means no one goes anywhere, and the tv blares, and I cannot concentrate. I did NOTHING in the way of writing. It took me until 1 o'clock to go through some email, though--so I did SOMETHING.

So, obviously, I sat at the computer for half the day--but could not focus into anything productive, really.

I've had a wonderful thing happen, though. My best friend from high school tracked me down. I moved clear across the country when I was sixteen, from Indiana to Nevada--and we were broken hearted.

Actually, I had a little posse of about five girls that I hung with--ran with literally from grade school on. Well, there was a class reunion this summer--which I wasn't invited to because I didn't graduate in Indiana. They talked about me, and one said she'd seen my bio on classmates.com but wasn't sure if it was really me.

Anyhow, it was very cool to check my email and see a note from the best friend I ever had. And she asked...do you remember me?

Do I remember her?!? You might put a true best friend out of mind for awhile, but when you're lonely and thinking back, you pull them out and they comfort you, even if you've lost touch--because you know what you had was genuine friendship, that someone loved you unconditionally.

I wonder why we don't have more unconditional love friendships? I sure try to build them. But I think we're all so busy protecting that it makes it hard to open up.

As you can see, I open up a lot. I'm not fronting. What you see is what you get. (Sigh)

Anyhow, we're catching up via email now, and she's given me some addies for others in the posse. I dropped them notes, and I see responses in my inbox. I'm just thrilled. I'm gonna make plans to go up and see them.

I'm sure I've changed the most--and I'm a little nervous about them seeing that--and their reactions. In school, I was truly anorexic. I went for two weeks at a time without eating anything--just drinking water or tang. And now, I'm a bbw. (Okay, I dunno about the middle b.) But I'm a b. and a woman. So that counts for something I guess.

AND then I found out that one of my newsletter list members is only a half hour away from me, so I'm gonna meet up with her sometime, too. This is really a small world sometimes.

Email and phone and snail mail make it smaller--but why do we lose touch with people we really care about? Sometimes, I know, we outgrow friends or acquaintances, or they outgrow us. And sometimes we're torn apart by our parents, or something. (Duh.)

Can I say anything to encourage you to look up old friends? It sure brightened my day to see email from friends of my younger days.

But then, I love to get email from my friends of nowadays, too. Like I said yesterday, don't be a stranger. Chat me up. I'm sure we have things in common.

For example, we all like my books. Right? We all think I should get more the hell out there, and soon, too, right?

I guess I'll go try and edit.
Posted by CarysWeldonblog :: 7:46 AM :: 1 Comments:

1 Comments:
That's so nice that you have a chance to catch up.
---------------oOo---------------