OK, that's going to be a good one! Can't go wrong with a name like that and France as a setting. :)

Don't forget about possible side-effects of head injuries -- blurred vision, memory loss, seizures... Yeah, I was mean to poor Kiernan. lol It got 'im Maeve though. :)
Posted by CarysWeldonblog :: 6:29 AM :: 3 Comments:

3 Comments:
I like when you talk about what you are doing and thinking about. I also like to know what stories or books you are working on.. And I also like the jokes. So I like everything you are do on the blog...
But that just me..
Brenda
All of the above? lol

Seriously, I think it's whatever you want to do. :)

Is that a cop-out or what? I don't mean it to be, though.
I think it's all good: writing stuff, family stuff, opinions, whatever you have on your mind at the time.
---------------oOo---------------
Tuesday, July 10, 2007
How smart is your right foot?

THE WORLD AND BLOGGER ARE MESSED UP. I CANNOT SEEM TO GET A TITLE TO POST THIS WEEK. TOOK me several times to get a title on this one. Geez.

Jennifer Nipps sent this to me via email. It is too funny. (Yes. We have already determined that I am too easily amused.)

HOW SMART IS YOUR RIGHT FOOT???

Just try this. It is from an orthopedic surgeon............

This will boggle your mind and you will keep trying over and over again to see if you can outsmart your foot, but you can't. It's preprogrammed in your brain!

1. WITHOUT anyone watching you they will think you are off your tree...) and while sitting where you are at your desk in front of your computer, lift your right foot off the floor and make clockwise circles.

2. Now, while doing this, draw the number '6' in the air with your right hand. Your foot will change direction.!!!!!!!!!

I told you so!!! And there's nothing you can do about it!

You and I both know how stupid it is, but before the day is done you are going to try it again, if you've not already done so.

Send it to your buddies to frustrate them too.
Posted by CarysWeldonblog :: 7:25 AM :: 1 Comments:

1 Comments:
I must be easily amused too, then. :)

However, I will NOT admit to how many times I tried that. lol.

---------------oOo---------------

Fake Monkey wins talent contest!

Okay. This is just too funny. Brits Got Talent--and it's a fake monkey.

http://www.youtube.com/watch?v=pqRd_4wY8hs

We've all wondered what Sam Cowell (spelling?) really likes. Now we know. He thinks monkeys are funny.

This sparked a question from me...goats and monkeys always make people laugh. Any other animals do that for you? My daughter said a Platypus did, just because the name is fun to say. I thought maybe a beaver would make most people laugh--because of the sexual connotations.

And, of course, we have a beaver in our front yard these days. (Yes. Remember, I live in the sticks, a haunted friggin' hollow in the Ozarks.) And it is a big honkin' beaver, too.

Labels: beaver, fake, funny, goat, monkey, sam cowell, utube


Posted by CarysWeldonblog :: 7:25 AM :: 0 Comments:

0 Comments:
---------------oOo---------------
Sunday, July 08, 2007
GIVING A CAT A BATH..........priceless!!!!!

Cats Love a Good Bath . . . .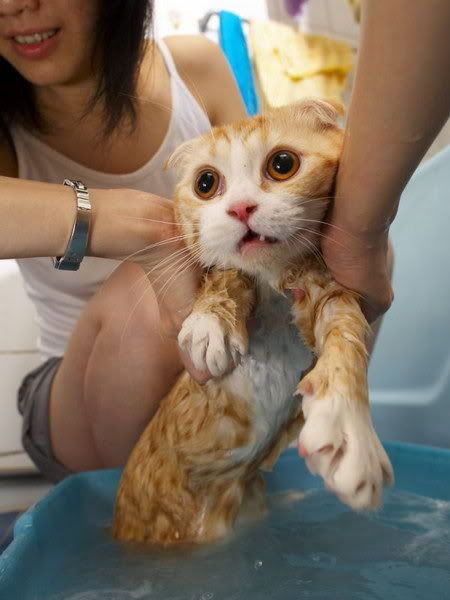 I thought you loved me!



You just wait .. I'll get even with you for this....



You said the water was warm!!!!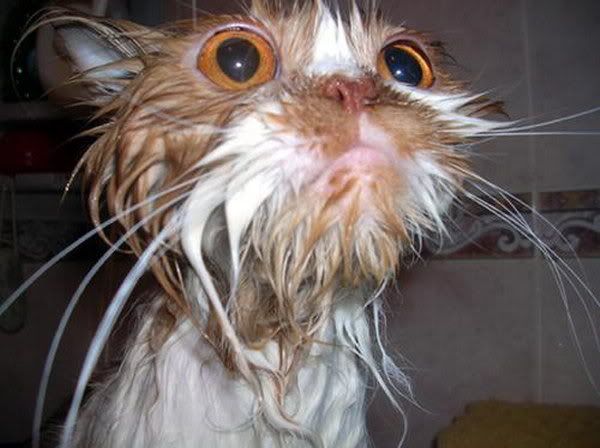 I don't like you anymore.....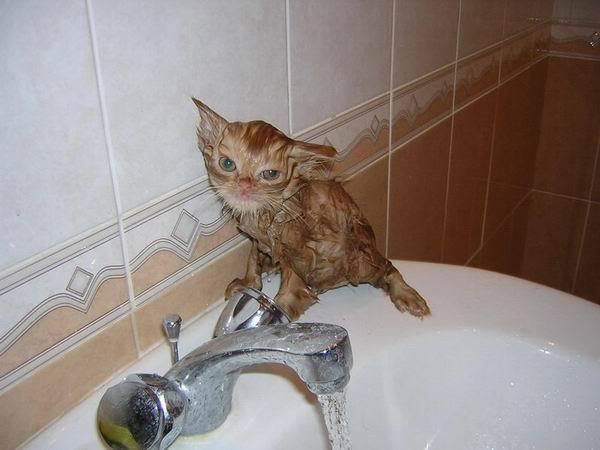 I'm gonna sit here until you get the towel ... now go!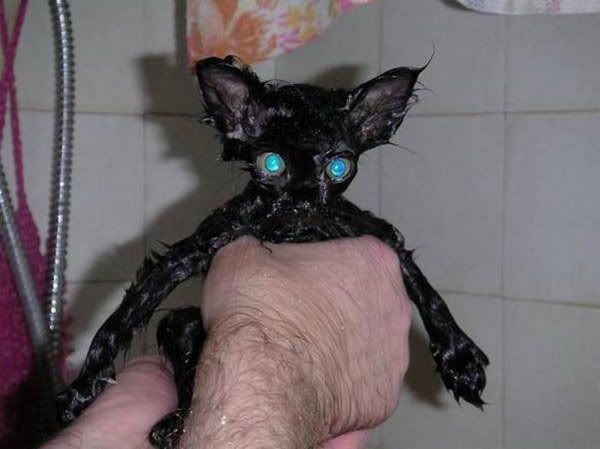 You're squeezing too tight ... look at my eyes ... they say "tilt"!



No, I am NOT your good kitty!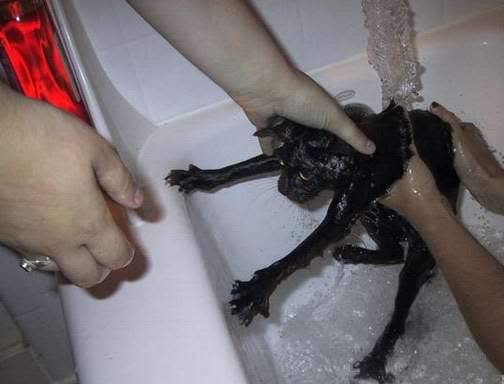 What's wrong with you people? This is cruel....and....WET!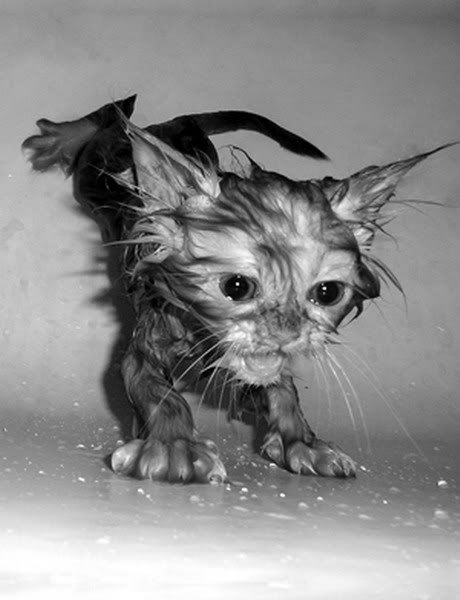 Why can't I get any traction?



I wish I could get on my knees to pray



No, no, no, no! ... I said "NO!"
Posted by CarysWeldonblog :: 11:21 AM :: 2 Comments:

2 Comments:
And I thought my cat had looked bad wet! Yikes!
I wish there had been some before photos to compare with the after shots.
Wow the looked like drowned rats
---------------oOo---------------