Carys Weldon Blog
Thursday, October 18, 2007
The Write Ingredients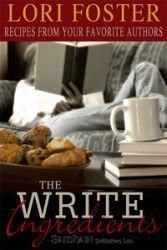 The Write Ingredients: Recipes from Your Favorite Authors by Lori Foster
Bestselling author Lori Foster and her online readers' group, has maintained a troop project for the past several years. They have joined forces with over 90 of your favorite authors to compile a book of tasty treats to raise funds for the continued support of America's Troops.
For more information, visit Lori Foster's website!
www.lorifoster.com
and
lorifoster.com/community/readergettogthr.htm
Along with Lori Foster and Diane Castell, contributing authors include:
Jim Alexander, Susan Andersen, Liz Andrews, Cynthianna Appel, Becky Barker, Jules Bennett, Lucinda Betts, Toni Blake, Allie Boniface, Denysé Bridger, Gemma Bruce, Jaci Burton, Stella Cameron, Mary Campisi, Tori Carrington, Cindy Carver, Billie Warren Chai, Celine Chatillon, Colleen Collins, Debby Conrad, Jodi Lynn Copeland, Sydney Croft, Cindy Cruciger, Paige Cuccaro, Bianca D'Arc, Gia Dawn, Sylvia Day, Jamie Denton, Danielle Devon, Roseanne Dowell, Christine Feehan, Kate Fellowes, Holly Fitzgerald, Suzanne Forster, Jenny Gardiner, Amber Green, Tilly Greene, Heather Grothaus, Rosey Haggerty, Karen Harper, Ingela F. Hyatt, Larissa Ione, Marcia James, Nicole Jordan, Sylvie Kaye, Susan Kearney, Mia King, Karen Kendall, Susanne Marie Knight, Jayne Ann Krentz, Rosemary Laurey, Kathleen Lawless, Jo Leigh, Toni Leland, Julie Leto, Cathy Liggett, Patricia Lorenz, Larissa Lyons, Allie Mackay, Donna MacMeans, Catherine Mann, Janice Maynard, Cheyenne McCray, Amanda McIntyre, LuAnn McLane, Patrice Michelle, Cindi Myers, Rhonda Nelson, Brenda Novak, Susan Elizabeth Phillips, Michelle M. Pillow, Mary Jo Putney, Anne Rainey, Tonya Ramagos, Joanne Rock, Patricia Sargeant, Melissa Schroeder, Shana Schwer, Jill Shalvis, Jennah Sharpe, Suzanne Simmons, Catherine Spaulding, Michele Stegman, Kay Stockham, Karin Tabke, Jean Marie Ward, Ann M. Warner, Nancy Warren, Carys Weldon, Sue-Ellen Welfonder, Diane Whiteside, Lori Wilde, J.C. Wilder, Brenda Williamson, C. J. Winters, Justine Wittich.
Now In PRINT; Order From MBaM!
Buy from Amazon.com
Posted by CarysWeldonblog :: 12:14 PM :: 6 Comments:

6 Comments:
This cookbook is really fantastic and it's a LOT of fun to see what your favorite authors like!
I love cookbooks. This one looks great.
I have way too many cookbooks but I am getting this one-it's for a good cause and I have read most of those authors.
the wanton werewolf series has been on my wishlist for a while, so i was going to publish it tonight. i went to extasy books website but i could not find it.

The Wanton Werewolf Series: Prequel and Book 1, 2, 3, 4
Author: Carys Weldon
ISBN-10: 1554106818
Publisher: eXtasy Books
Publication Date: 2006-06-25

do you now have it published somewhere else? please let me know. thanks.
dawn
purchase. i meant purchase, not publish. lol. i was going to purchase it tonight. :)
dawn
The werewolves are available at Mojocastle Press.

http://www.mojocastle.com

Be sure and let me know what you think.
---------------oOo---------------
Best Car Commercial Ever
Posted by CarysWeldonblog :: 12:08 PM :: 0 Comments:

0 Comments:
---------------oOo---------------
ANGEL BET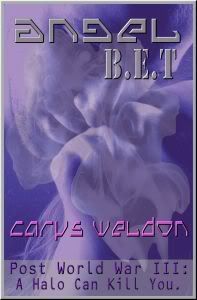 Dr. D. created a quicker way to die, a small capsule filled with something called Angel Vapor. The company secured her ability to finish her research by putting her under contract for the cy-droid program—which revives the dead, and implants the necessary parts to get the deceased up and running again.


So, DeAnna, a cy-droid human in post third world war America, needs to get control of her remote control. Genius-rated scientist Adrian helps her outsmart NatDef but can he get them out safely?


Excerpt:
Her fingers slid over him, touching every dent, every sculpted muscle on his torso.

It made him shiver. When she trailed a fingertip over his pec, to his nipple, he grabbed a hold of it. She tugged free and before he could stop her, she'd bent toward him and put her mouth over the small nub. And sucked.

Adrian groaned. His hands, of their own accord, wrapped around her. One went to the back of her head and the other dropped to her hip. And that one made the unconscious move of squeezing, drawing her closer.

He couldn't have said how long they stood there like that before she moved to the other side of his chest and then, eventually, let her lips trail down the line of hair that went from his navel lower. When Anna went to her knees before him, he looked down.

Part of him wanted to tell her to go ahead....
Posted by CarysWeldonblog :: 11:59 AM :: 0 Comments:

0 Comments:
---------------oOo---------------

FINALLY! - It's here

Sumhow, I figgered you'd like this.........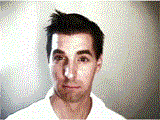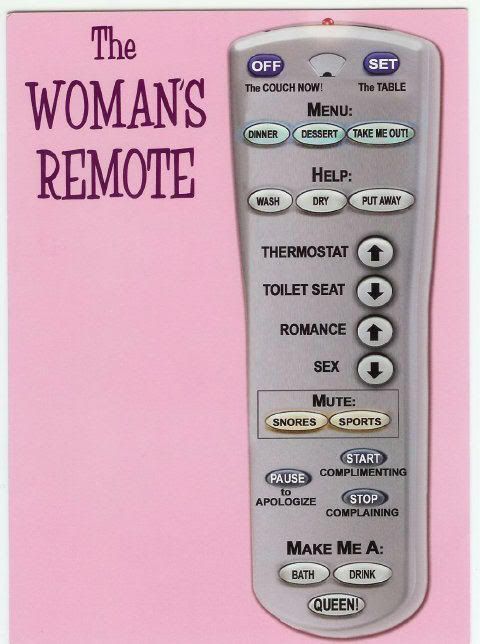 Posted by CarysWeldonblog :: 11:52 AM :: 0 Comments:

0 Comments:
---------------oOo---------------