Carys Weldon Blog
Sunday, April 30, 2006
NEW CONTEST
Carys Weldon Giveaway

Last month's BLOG WINNERS POSTED ON HER BLOG!
www.carysweldon.com
Offered by: Carys Weldon
Deadline for entry: May 30, 2006
Details: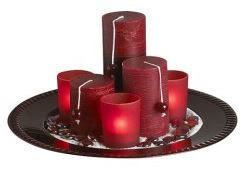 Win this amazing red jeweled candle set from Carys Weldon. Ends May 30th. To enter Join her newsletter! Send a blank email to
caryweldonnewsletter_subscribe@yahoogroups.com
.
Enter now
!
Posted by CarysWeldonblog :: 7:07 PM :: 1 Comments:

1 Comments:
Sexy red candles; Wow!
---------------oOo---------------