Carys Weldon Blog
Saturday, September 09, 2006
Admit it...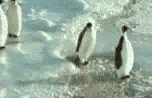 you feel like doing this to at least one person everyday!
Posted by CarysWeldonblog :: 10:35 AM :: 4 Comments:

4 Comments:
usually several times a day rofl.
Oooooh yeah!! Sometimes repeatedly. To the same person.
I laugh every time I see this stupid penguin thing. Isn't it great?
Yes. Oh yes, I do.
---------------oOo---------------